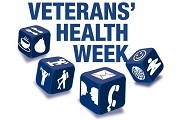 Getting connected during Veterans' Health Week

Social connection is the theme of Veterans' Health Week (VHW) 2016, which began on Saturday, 22 October and will finish this Sunday, 30 October.

VHW is an opportunity for veterans, war widow/ers, current and former Australian Defence Force (ADF) members and their families to participate, connect and promote good health and wellbeing.

More than 300 events and activities will have run during VHW, including family fun days, cooking competitions, mental health first aid sessions, fitness challenges, health expos, community walks and BBQs.

DVA encourages all veterans, ADF members and their families to take part in local events during VHW and beyond, as an opportunity to meet new people who share common experiences and build new relationships.
DVA has also partnered with ex-service and community organisations to develop the week- long program of fun and interactive local events and activities.

Some of the activities so far include: a High Tea hosted by the Women Veterans Network Australia in Townsville; Holistic Health Education hosted by Veterans Care in Brisbane; and Vets Go Surfing, hosted by the North Bondi RSL.

A full listing of the events is available at: http://www.dva.gov.au/veterans-health-week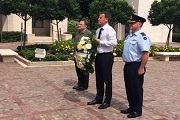 Minister takes part in commemorations

The Minister for Veterans' Affairs, Dan Tehan, recently took part in a visit to Joint Base Pearl Harbor, Hawaii.

As part of the Australian American Leadership Dialogue (AALD), Minister Tehan joined members of the AALD from the government, media and education sectors.

This year's event was the 9th Annual Honolulu Leadership Dialogue. It was co-hosted by US Pacific Command and the East-West Center. In addition to engaging in these talks, Minister Tehan took part in commemorative activities.

On 3 October, Minister Tehan laid a wreath on behalf of Australia at the US National Memorial Cemetery of the Pacific. On 5 October, he took part in a wreath laying ceremony at the USS Arizona Memorial at Pearl Harbor. The USS Arizona was one of the ships sunk in the Japanese attack on Pearl Harbor on 7 December 1941.

The Minister has just returned from South Korea, where he participated in commemorative activities associated with the 65th anniversaries of the Battles of Kapyong and Maryang San, and more broadly the service and sacrifice of Australians during the Korean War.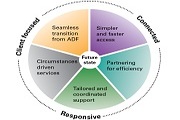 DVA 2016–2020 Corporate Plan

The DVA Corporate Plan 2016–2020 was recently released. The Corporate Plan outlines the operations of DVA, and the future directions and strategic changes that will be occurring.

This key document sets the direction for DVA, defining our corporate goals and guiding our work. A particular focus of the plan is DVA's transformation agenda.

DVA is currently undergoing a process of transformational change that puts veterans and their families at the centre of our thinking, services and systems.

By strengthening our partnerships with Commonwealth agencies, and improving our business processes and IT systems, we will provide easy and more efficient access to DVA services and support that are better focused on the needs of veterans and their families.

To find out more about the DVA Corporate Plan 2016–2020, visit https://goo.gl/9aGLin